Expenses & Sending Payments
How to Pay Bills in Bulk
FINSYNC allows you to pay any vendors for which you have either ACH info or a US address with the click of button. You can also pay multiple bills as the same time.
To begin Paying Bills in Bulk, follow the steps outlined below:
1. Mouse over the Payments tab in the top menu and select Expenses.
2. Click on the green Pay button in the top right.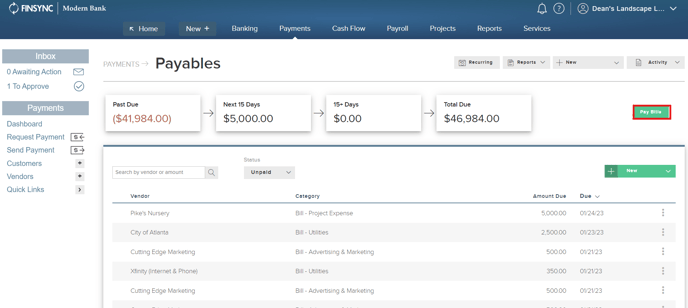 3. Click the checkbox next to Payee to select ALL bills, or specify individual bills using the checkboxes by each row.

4. Click Pay Bills at the bottom to pay all selected vendors.
Note: Any vendor with a yellow triangle cannot be paid because info is missing on the payee record.