Business Elite Pro Registration Steps
NOTE: Google Chrome is recommended for better functionality over Internet Explorer.
Open your browser to https://www.mybusinesssense.com.
Select Register Now, enter access code VGA4DL and select Continue.
Complete the Registration and Billing Authorization. If you do not have a business name, use your name for Business Name and your social security number for Tax ID.
Click Register.
On the Confirmation Page, check your information for accuracy and click Continue.
Once registered, you will be in the primary benefits page where you can do the following:
Print Employee Welcome Package for your employees (allow pop-ups so you can see the PDF)
Register for the account software, billing and invoicing FINSYNC (Payroll and Projects are Add-ons available); see FINSYNC Registration Steps below.
Access Data Breach Solutions.
Access Small Business Monitoring & Identity Management Center.
Access Employee Benefits you can offer your staff.
FINSYNC Registration Steps
Once logged in to Business Elite Pro, click on Register for FINSYNC.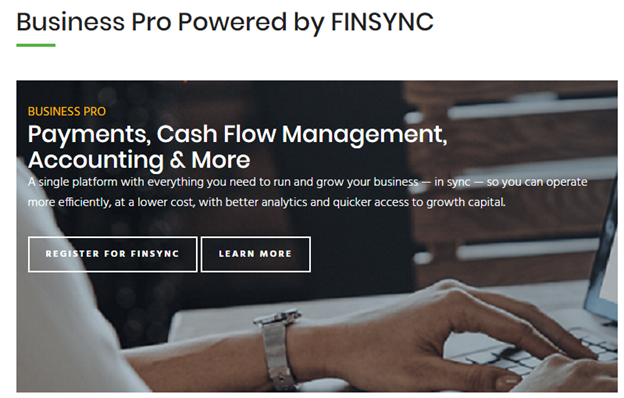 You will receive an email from FINSYNC (no-reply@finsyncmessages.com) with a link to sign up and create a password. Your username will default to your email address for Business Elite Pro.
Once you set your password, you will able to use FINSYNC.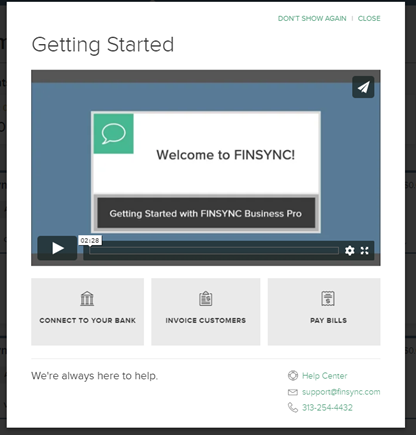 Set your start-date for your fiscal year (typically this will be January 01 of the current year).
Set your accounting start month (typically this will be January 01 of the current year).
Click Banking.
Click Add Bank Account.
Select Account type from the drop-down menu.
Fill out the form.

Confirm RBFCU in the Bank Name.
Click Continue.
This will take you to a screen where you will enter your online credentials for RBFCU. Use your bank login credentials. This will take a few minutes to load your account display information. You can then select the account or accounts you want to synchronize with FINSYNC.
If you have multiple accounts to import, repeat this step for each account.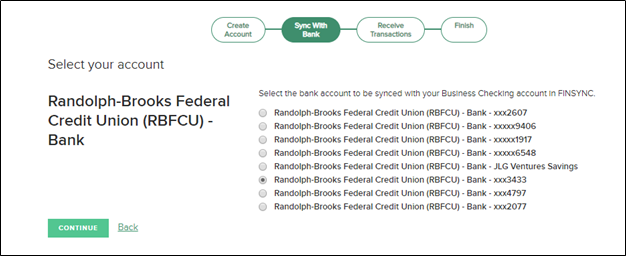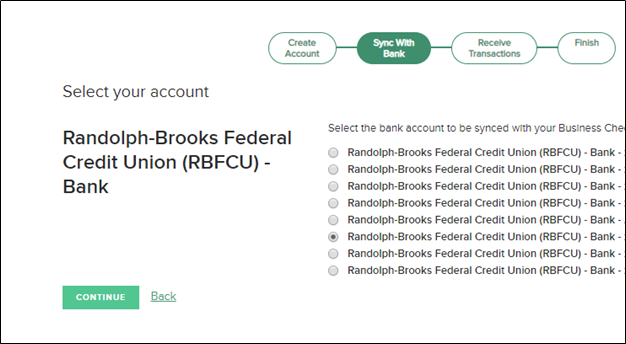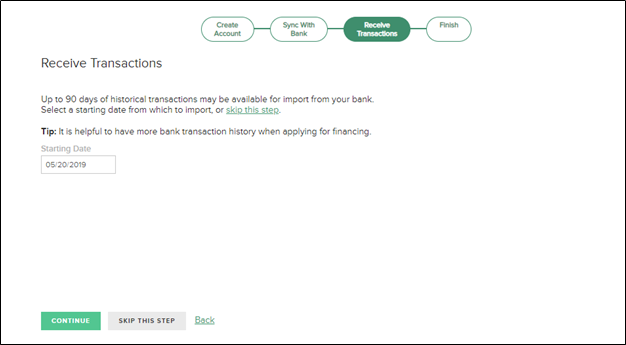 The initial import will only pull information from the last 90 days. If you have more data to import, refer to Importing your account data below.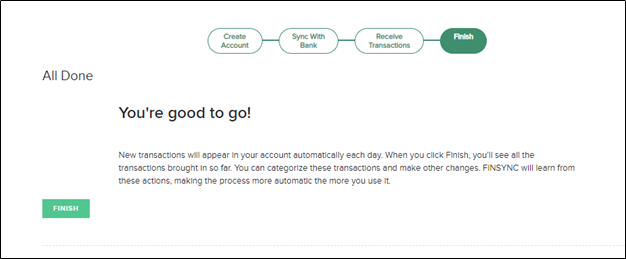 Importing Your Account Data
NOTE: These instructions only work for RBFCU Checking and Savings Accounts.
Log on to your https://rbfcu.org account.
Click on the account you want to import.
Click on the ellipsis ( ) to the right of the account balance.

Select Download Transactions.

Select the desired date range. This should match your fiscal year.
Click Download.
Click Open and the history will be in a spreadsheet format (CSV). Make sure you save this in a folder or on your desktop.
Delete the Check number column (Column C) and the Memo column (Column D).
Click Save.
Log on to FINSYNC.
Click on the Banking tab and select your account.
Click on Import at the top.

Click on Select File.
Choose the file for your imported transactions and click Open.
Click My file has one column for payments and deposits.
Select Date on the Select Field for column 1.
Select Amount on the Select Field for column 2.
Select Description on the Select Field for column 3.
Click Import Transactions.

When asked to confirm to import transactions without account column, click Yes.

Selecting Your Opening Balance
Click on your account at https://www.rbfcu.org.
Pull your last statement from your previous fiscal year (typically December of the previous year). You will need the Current Statement Balance found at the top right of your statement account.
Log on to FINSYNC.
Click on the Banking.
Click on your account.
Click on Settings.

Scroll down to enter your actual bank balance and accounting bank balance as of your accounting start date.
Type in the Actual Bank Balance the same as your Current Statement Account Balance.

Click on Save Changes.
If the changes are saved successfully, you will receive a message at the top in green, "Save Succeeded", to confirm your changes.