FINSYNC users can create or be associated to more than one business profiles. A business profile is considered an additional company. This option can be used in situations where an individual is the owner of two or more companies and can benefit from using the same FINSYNC login to access multiple business profiles.
To create a new business profile that you control, follow the steps outlined below:
1. Click on the Company Profile Icon in the top-right of the screen.
2, Click on Manage Profiles.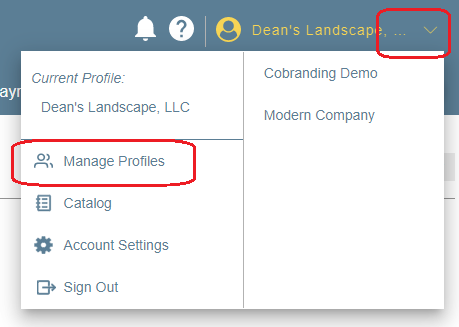 3. Within the Manage Profiles screen, click the New Profile button.
Note: The Manage Profiles screen displays existing business profiles.

4. Complete the required fields for the new business profile and click Add Profile.
5. Be sure to fill in any additional details that are required.