As the owner of your FINSYNC profile you have the ability to review all Unapproved bills (including expense reimbursement requests).
Note: FINSYNC account owners may create users (associates) with permission only to create bills but not approve bills.
To approve and reject bills from within your FINSYNC profile, follow the below steps:
1. Click on the Payments tab in the top menu.
2. Click the Unapproved tab in the left menu (underneath Expenses heading).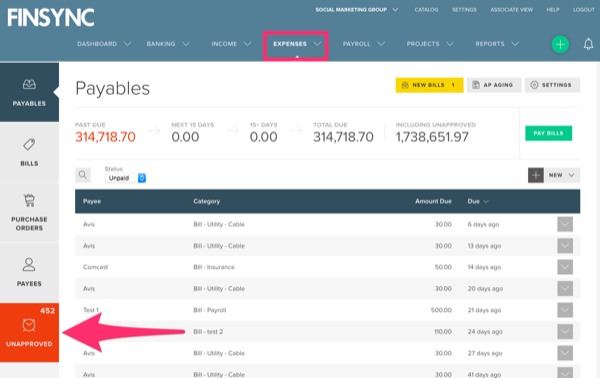 3. Click the Bills tab near the top of the table.
4. Choose the box next to Payee to select all bills. Or you can choose individual bills by clicking on the respective rows.
5. Once you have made your selection, click Approve or Delete.
Note: Once you approve bills, they will no longer be visible in the Unapproved tab. They will be visible in the Bills and Payables tabs.