FINSYNC's Mobile platform allows you to easily create new Customer Profiles to help make invoicing on the go easy and seamless.
To begin creating Customer Profiles, follow the steps outlined below:
1. Click on the collapsible menu in the top left corner of your screen.

2. Select Customers.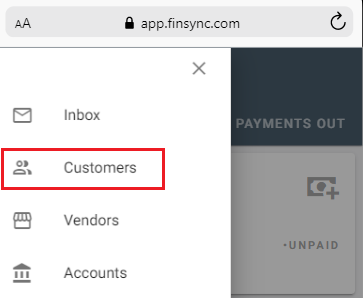 3. Click on the green + Icon in the bottom right corner of the screen to add a customer.

4. Fill out the required fields of the Company Name or Individual Name and the Email Address where an an invoice will be sent.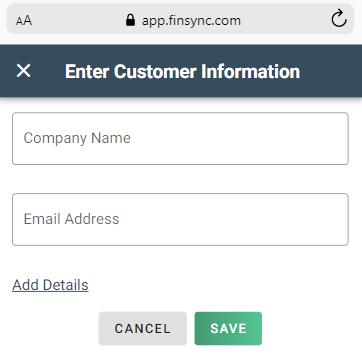 Note: Any Customer Profile created in FINSYNC's Mobile platform will automatically default Invoices sent to the customer (from within Mobile) to be paid only via ACH transfer.

Customer who are preferring to pay via other means (physical check) will need to be invoiced from the desktop version of the software. When sending an invoice from within the desktop version you will be able to select what payment methods are acceptable for that invoice.
5. Clicking on Add Details will expand the optional information fields of a Customer profile:
Contact Name
Mailing Address
Phone Number(s
6. Click on the green Save button.