FINSYNC allows you to easily keep track of the items your business sells, making it easy to add them to invoices, keep track of purchases as well as calculating costs.
Follow the steps below to begin creating new inventory items in the catalog.
1. Click on your Company Profile Icon in the top right corner of your screen.
2. Select Catalog from the list.
3. The landing page will allow you to select your Inventory in the left menu.
4. Select New Item on the right, just above the table.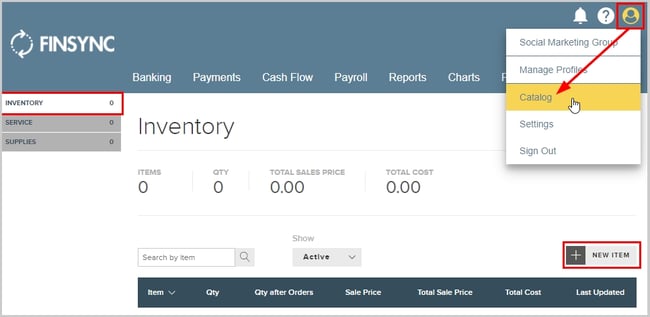 5. Choose a Sales Account.
Note: If you need to create a new Sales Account for this item, select Add account to create a new sales account within your Chart of Accounts (COA).
6. Give the item a name and a description.
7. Choose the default selling price of the item.
8. You may optionally add a description and vendor related fields.
9. Select Save.