When working with FINSYNC Customer Support, it's sometimes easier discuss an issue when the support representative can see what you are seeing. When this occurs, granting the FINSYNC support team access to the account is the best thing to do.
To invite the Support team to your FINSYNC profile, watch this brief video or follow the steps outlined below:
Steps to invite FINSYNC Support to access your account:
1. Click on the Company Profile Icon

in the upper right.
2. Click Settings.
3. Click Sharing from the menu on the left.
4. Click the Invite button on the top-right and click Customer Support.

5. On the Confirm page, a expiration date can be specified or access will automatically be revoked after 15 days.
6. Select OK to confirm access.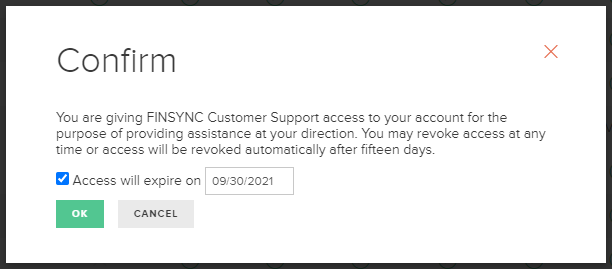 Note: You may revoke Support access at any time. You can do this by editing the Customer Support user's access like you would with any other administrative user.