FINSYNC uses an Accounting Start Date so your reports (Balance Sheet, etc.) are accurate. By default, your accounting start date is set to the first day of the calendar month during which you created your business profile.
Example: If you create your profile on 1/20/2023, then your start date is automatically set to 1/1/2023.
To check on your accounting start date, follow the steps outlined below:

1. Mouse over the Company Profile Icon in the upper right corner of your screen and select Manage Profile.
2. Select Reports from the left-hand menu.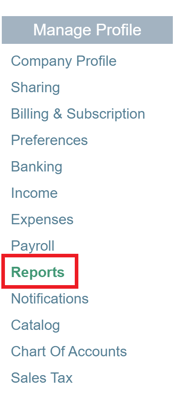 3. From Reports, you can change your accounting start date by selecting Change Month and Year.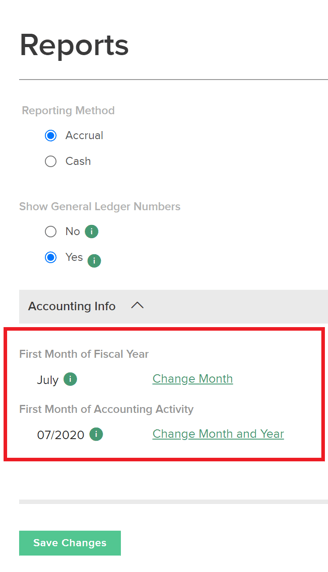 Additional Notes:
When you sync a bank account with FINSYNC, it pulls transactions back at least 90 days into the system.
Only the transactions on and after your accounting start date will be reflected in your reports.
You should account for your financial activity before your accounting start date in your opening balances.
Outstanding bills and receivables should be created as invoices and bills in FINSYNC and not accounted for in opening balances.
Tip: We are here to help with uploading any transactions that the sync did not pull in. We will need you to obtain a CSV Export from your bank for each month that did not populate after the sync.
Related Articles:
Understanding the Cash Flow Dashboard
Opening Balances of Assets & Liabilities
Understanding Default Bank Accounts
Understanding Transactional and Additional Fees