The following provides details on what your customer receives when you request a payment from them. Requesting payment from a customer is performed within FINSYNC using one of the following within the Payments area of FINSYNC:
Using the Receive Payments feature
Using the Invoice feature
The recipient (your customer) will receive an email notification when a payment is requested using one of the above options and the email will look similar to the example below. The recipient can view the invoice by clicking the View Invoice button within email. This will open the invoice within your internet browser.
After clicking the View Invoice button within email, the recipient will be presented with the invoice details and will appear similar to the example below.
By default, invoices are paid by Bank Transfer or "ACH" (electronic check).
If you have the option to accept credit cards as payment, a Credit Card option will appear as well.
The recipient should select the payment method, enter the payment details and then click the Pay Now button to submit and the process is complete!
Note: If the recipient of the invoice already has a FINSYNC free/limited account, they will receive a prompt to login to view the invoice.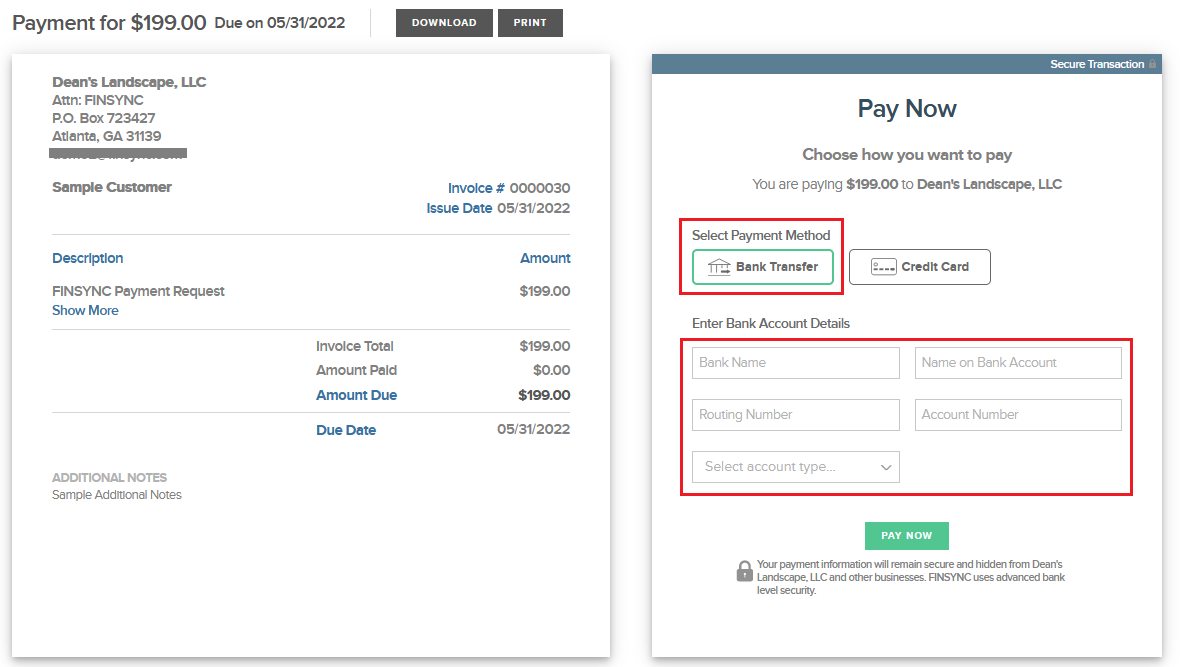 Option to establish a 'free' FINSYNC account
After submitting the payment, your customer will see an option to create a free FINSYNC account. This is optional and is very helpful for any one that receives multiple payments requests/invoices from a business that uses FINSYNC.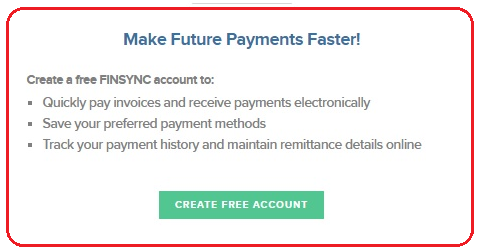 Key features enabled once your limited account is set up include:
FINSYNC will store preferred payment information to allow any future payments to be made quicker and easier.
FINSYNC will store all payment history for quick and easy reference.
Manage notifications preferences.
If your customer has a Limited Account with FINSYNC, they will be prompted to access their account prior to paying an invoice.
For information on how to create a free FINSYNC 'Limited' Account, click Create a Free FINSYNC Limited Account
Related Articles:
What Your Customer Receives when you Send a Quote
Choosing Who Receives Invoices & Payments
Overview of FINSYNC's Payments Plan