Recurring invoices is a great way to save time for any situation where customers are billed on a recurring basis. Once recurring invoices are scheduled, FINSYNC will automatically generate and send new invoices on the schedule and for the duration selected.

Setting up recurring invoices is easy. Follow these steps to create an invoice and set to recurring:
1. Click on the Payments tab.
2. Mouse over the Activity button on the right side of your screen and select invoices. Click on the green New Invoice button to begin creating a new invoice template.
3. Select a Customer name.
4. Add at least one item to the invoice, including Unit Price and Qty.
5. The Unit Price defaults to what is in the Catalog. The price can be edited directly if needed.
6. Add a description for the line item (optional).
7. Edit the Quantity to the correct amount for each item.
8. Set the Sales Tax if applicable.

9. Under the Invoice Settings section, select Recurring Invoice within the General Options and additional options will appear.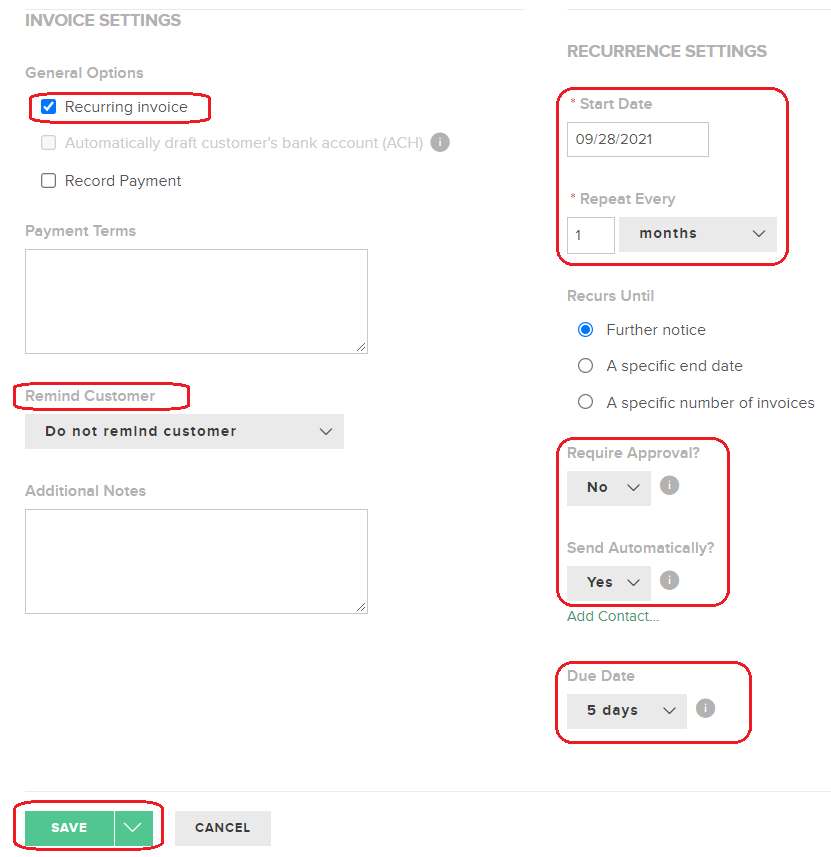 10. Set the Send Date. Each subsequent invoice will be sent will be based on this invoice scheduled date.
11. Set Repeat Every to the desired recurring time frame: weeks, months, years.
12. Set Recurs Until to the desired setting. If A specific end date is selected, the system will prompt for the End On date. If A specific number of invoices is selected, the system will prompt to enter the End After number (number of invoices).
13. For Require Approval, select No if each new invoice can automatically approved. Choose Yes if each new invoice must be sent to the unapproved tab for administrative approval before sending. This is also convenient for any situations where additional information needs to be added to an invoice.
14. Set Send Automatically to No if a member of your company's team must manually click send on each new invoice. Set Send Automatically to Yes if you want each new invoice to immediately be sent once it is created.
15. Set Due date (default term) to the amount of days your customer has to pay the invoice and still be on time. "30 Days" = NET30.
16. Payment Terms is a text field to add comments, such as "5% Penalty if Late".
17. Set Remind customer based on your Collections Reminders requirements.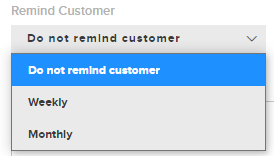 18. Additional Notes is another field you can use for any additional notes to provide to the recipient.
19. Click the Save button. Once saved, the invoices will be sent under the recurring options specified. The process is complete!
Viewing Recurring Invoices
Recurring invoices can be viewed within the list of existing invoices by clicking the 'Recurring' button at the top-right of the invoices screen.

Recurring invoices will display and include the key details for the recurring schedule for each invoice.