When you choose to have checks sent to your secure FINSYNC lockbox, the checks are processed for you, deposited into your account automatically and matched with the appropriate invoice(s).
To enable Lockbox as part of your Income follow the steps outlined below:
1. Select the Company Profile Icon in the upper right corner of your screen. Select Manage Profile.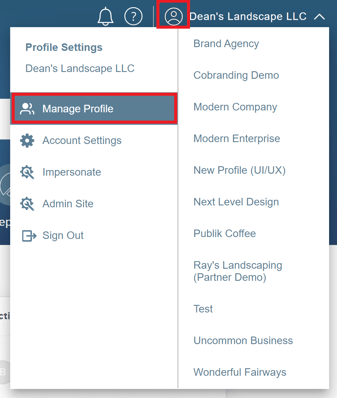 2. Select Income from the navigation on the left.
3. Scroll down to the Checks section of the page and select the Enable Lockbox option. You will see the Lockbox address replace your default mailing address.
4. Scroll to the bottom of the page and select Save Changes.
Related Articles:
Overview of FINSYNC's Lockbox Service
How to Enable Lockbox for Receiving Payments by Check
How to Handle Bulk Cash and Check Deposits in Your FINSYNC Profile for Multiple AR Items